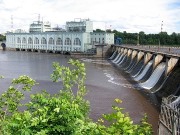 In September 2010, Monitor Electric specialists in collaboration with NPF "Rakurs" completed commissioning and tested supervisory control tools for hydro unit (GA-1) of Volhovskaya hydro from the system that is based on SCADA/EMS OIK CK-2007 in TGK-1, OpenJSC.
During testing the following functionality was checked: automatic normal start, increase/decrease of unit capacity, switching from generating to synchronous condenser mode and vice versa, automatic shutdown.
Based on the results of testing the commission confirmed full availability of supervisory control tools for the hydro unit fromTGK-1, OJSC control center.