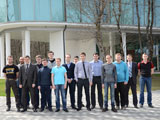 On April, 01-05, we held training courses for maintenance engineers of SCADA/EMS CK-2007 at the Training Center of Monitor Electric in Pyatigorsk. The training was held for representatives of Russian companies: ZAO NPP "Energopromservis", OAO "Yuzhny ITSE", OOO "ANT-Inform", "Kola" and "Nevsky" branches of OAO "TGK-1", as well as representatives of our foreign partners and customers - TOO «INet» (Kazakhstan), OOO "NPP UkrEnergoNaladkaIzmerenie "(Ukraine), RUP "ODU"of Belarus.
During the training course special attention was paid to the installation, configuration of connections with controlled object and subsequent operation of the complex. Highlighted the features of the new version of SCADA/EMS, as well as new products and subsystems running on the platform or integrated with CK-2007 were covered.
After the course all participants received certificates.