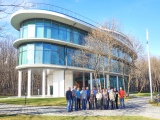 Courses for SCADA CK-2007 operators and maintenance technicians took place at Monitor Electric Training Center (Pyatigorsk) from 23 to 27 November, 2015.
Among the attendees were representatives of the following companies: Inter RAO IT LLC, M12Systems LLC, Territorial Generating Company No. 1 OJSC (TGC-1), EAE-Consult LLC, T Plus PJSC, Siberian Generating Company LLC (SGC LLC), Mezhregionenergosbyt OJSC, Mosenergo PJSC, Federal Grid Company of Unified Energy System PJSC (FGC UES), Far-Eastern Generating Company JSC.
The courses included both lectures and classroom training activities and covered issues related to CK-2007 architecture, software components enabling data collecting, engineering and visualization, processing units, application package for generating companies "CK.Generation".
Particular attention was paid to the questions of current use of Monitor Electric software products. The attendees were given recommendations on how most efficiently to solve challenging customer problems. The participants on their part expressed their ideas concerning CK-2007 functionality improvement. All the proposals were forwarded to Monitor Electric development department to consider the possibility of their further realization and inclusion in new CK-2007 versions.
At the end of the course the attendees successfully completed the activity assessment that proved a high level of course comprehension.
We wish good luck to all participants and invite everyone to attend the following training session.