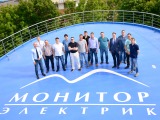 Courses for SCADA CK-2007 operators and maintenance technicians took place at Monitor Electric Training Center (Pyatigorsk) from 16 to 20 May, 2016.
The training was delivered to the representatives of ANT-Service company (Moscow).
The courses included both lectures and classroom training activities and covered issues related to CK-2007 installation, adjustment and operation. The attendees were provided with detailed information about solutions and subsystems that can be integrated to CK-2007 or are deployed on CK-2007 platform.
Now, the attendees of the training session are to deploy SCADA CK-2007 at different facilities and to apply the acquired knowledge in practice.