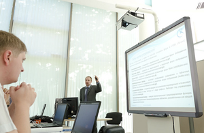 From the 26th till 30th of September Training Center of Monitor Electric JSC, Pyatigorsk, ran consultative course "OIC CK-2007 management". The representatives of the following companies took part as course participants: "Power Grid Company" OJSC, Kazan (Tatarstan Republic), "Strategic Business Systems" LLC (SBSystem LLC), "INTER RAO United Energy System" OJSC,
"Rostovenergo" JSC (Rostov branch of the "Interregional Distribution Grid Company of the South" OJSC), "Far Eastern Generating Company" JSC, "LUKOIL-INFORM" LLC, "ANT-Inform" LLC, "Aventus-technologies" LLC and "EAE-Consult" LLC. The following new opportunities of the latest OIC CK-2007 version were illustrated: acknowledgement subsystem; support mechanism of the extended OIC domain, which allows to create SCADA, technological and other groups within OIC net. Everyone who wanted to communicate with developers was given such opportunity.
All the participants pointed out high level of the course management.