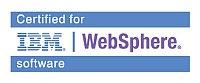 Our Company specialists have obtained professional certification of work on an IBM WebSphere group of software products. They have been assigned with the following qualifications: Technical Specialist-Consultant IBM WebSphere MQ, Product Sales Specialist IBM WebSphere, Technical Specialist-Administrator IBM WebSphere MQ V7.0.
Monitor Electric is a partner of IBM, and is successfully using this Company's solutions in its own projects.
Today many of our products are using IBM WebSphere-based Information Guaranteed Delivery Technology. Certification by product of this private group of IBM software will allow us to offer our customers the complete solutions for complex integration and construction of corporate transportation systems for technological information exchange.