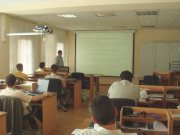 In June 2008 Monitor Electric received two groups of experts involved in the operation and implementation of the SCADA/EMS CK-2003/2007, who had come for training and professional development. Updated training program was devoted to operation of the new version 5.3. SCADA/EMS CK-2003, as well as features of the SCADA/EMS CK-2007.
Operating organizations were represented by experts of SO UES, Bashkirenergo, TGC-13 and others, engineers of RTSoft, Prime Techno System and the SOUTH-SYSTEM Plus were prepared too. Totally 24 experts were trained during two weeks.
Instructors noted high activity of most listeners and a significant number of questions related to the use of complex solutions as well as on the development of new functionality.