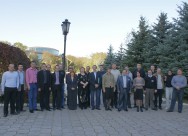 On 13-17 October, 2008 our Company held a five-day workshop in Pyatigorsk on training of administrators of SCADA/EMS СК-2007. This is the first workshop for the System Operator devoted to tasks of adoption and operation of SCADA/EMS new version.
Workshop participants acquainted with new products concerning architecture of the complex, new capacities of processing and storing data and features of SCADA/EMS СК-2007 administration. Developers have presented recommendations on data migration from СК-2003 to СК-2007, organization of concurrent operation of two versions during beta testing.
Administrators and developers of SCADA/EMS in format of round work table have discussed the perspectives of SCADA/EMS CK development, possibilities of migration of the available software functioning on СК-2003 platform, necessary for transfer available developments to the new version of the Complex.
The workshop was devoted to the Project of "SO UPS" 12 branches tooling and retooling with the new SCADA/EMS СК-2007. This project started in May 2008 and must be finished in December by launching of 12 new complexes in trial operation. Server equipment delivery and operating staff training are done by now.
Among 12 launching objects in 2008 there are 10 of the greatest dispatch centers of the System Operator (ODU Ural, ODU North-West, Leningrad RDU, Sverdlovsk RDU, Tyumen RDU, RDU of Moscow, etc.) and also 2 recently organized branches of the System Operator – Baltic RDU (Kaliningrad) and RDU of Tatarstan (Kazan).