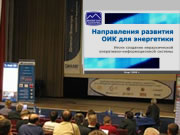 Vadim Nesterenko, director general of Monitor Electric Company, addressed the ninth specialized scientific and technical workshop on "Power system SCADA development tendencies".
The address summarized development stages of SCADA system CK-2003 in the largest power governing body of the country—SO-CDU UES of Russia.
In the first place the participants were told about the key advantages of new SCADA system CK-2007. Development and testing of that SCADA system was completed in November 2007. Currently the system is in operational testing at 14 sites. Fifty more implementations are planned for 2008.
Then new projects were presented: OTS "Finist" and SCADA CK-2009, which support state-of-the-art standards of description, storing, and accessing data (CIM, GDA).
Great number of questions demonstrated high urgency of the issue and particular interest to the products and solutions of Monitor Electric Company.