Structurally, the company has two production units. The first works on the tasks associated with the software development; the second deals with implementation of automated systems development projects for customers.
The work process of the major production divisions is based on the principle of a balanced matrix: functional structure which is based on the vertical management is harmonized with the system of horizontal connections of the project organization of works.
A considerable part of the company's business operations refers to the process of maintenance service. Three lines of technical support system are interconnected with the most of the company's production divisions.
Single office of project and process management coordinates design and business operations and ensures efficient resource management.
The company management comprises two bodies: Management Committee headed by the Chairman and Administration headed by the CEO.
The Management Committee defines strategic objectives, approves annual plans, provides project s coordination at the top management level. Management Committee members are elected for a term of one year. Besides the top managers of the company, Management Committee may include key shareholders, heads of departments, leading experts. Committee meetings are public for the company's employees.
The Administration ensures implementation of the approved plans and achievement of goals.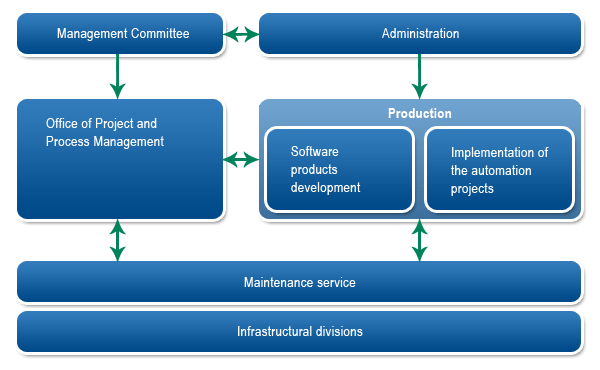 Geographically, company is now presented in three Russian cities:
Head office is located in Pyatigorsk. The main and two additional offices are situated here, including: Administration; software development, maintenance service and products implementation divisions and Training Center.
Company branch in Voronezh works on the development of graphics systems for company's software products. It also participates in projects implementation within its core competence.
Office in Moscow operates as a representative branch. Besides that, it's the working place for some engineers of the production units who participate in the process of products development.
Monitor Electric Smolensk Branch employs graduates and professors of Moscow Power Engineering Institute (Smolensk branch). Their key responsibilities include technological analysis of projects, power systems data engineering and engineering support.
The software development for automated dispatch control systems together with the other divisions of the Company is the main activity of Krasnodar team.
Our US partner is Monitor Electric, LLC. The company is mainly involved in promotion of Monitor Electric's solutions as well as finding successful products and accumulating worthy experience of the companies in the Northern and Southern America with the aim of using this knowledge in joint projects.