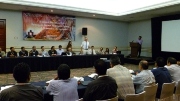 On special invitation from CENACE-Energy National Control Center Monitor Electric specialists M. Nesterenko and O. Fedorov made three presentations. Company products, integration and operation of CK-2007 competencies, and operator training simulator "Finist" were presented to colleagues from foreign control centers.
Particular interest was for demo of emergency training, when advantages of OTS Finist at modelling of dynamic processes in power system, and possibility of interlevel trainings were demonstrated.
Participants on the Mexican part pointed out high level of availability of Monitor Electric software products for improving power systems regimes control reliability and effectiveness of control centers staff training.