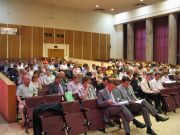 From May, 24 till May, 26 in Moscow has passed the third specialized scientific and technical seminar "Modern methods and software of the analysis and planning of a power consumption, balances of capacity and the electric power", organized by Scientific-educational center "ENAS". Our company has taken part in this seminar and has presented the report "Operative - information complex СК-2003.
Modern methods of information support of activity of the operative and technological personnel of the dispatching centers". The report described technology of introduction of a complex and about realization of the feedback allowing our clients in the convenient form to receive answers to questions, to state remarks and offers on change of functionality. The review of the electrotechnical tasks realized in frameworks "CK-2003", such as the control of overflows over dangerous sections, the current control loadings of the equipment, the control of levels of voltage has been made. The finishing part of the report was devoted to prospects of development SCADA\EMS "СК-2003" and new functions which it is planned to include in the following versions of a product.
The important part of a seminar was a round-table discussion of the Russian software developers for electric power industry in which Monitor Electric representatives took part. The basic theme was discussion of the questions connected to realization of standards of information interchange between various programs in power branch. This theme is now actual, as introduction new and operation of working software products even more often faces problems of integration databases, repeated transformation of the data, duplications of preparation of the initial information. The majority of participants of around-table discussion were solidary that a basis for integration of power appendices should become a series of international standards IEC 61970 which was initially considered by its founders as base for integration. The Russian developers realize, that future belongs to software products which save expenses of customers for introduction and integration, to products that comply with requirements of standards.