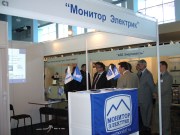 On 17-20, April, 2007 "Monitor Electric" presented the latest version of its software product SCADA/EMS CK-2003 v.5.1 in demo mode at the International specialized exhibition "Power and communication systems 2007". Company experts made a report at the scientific and technical conference that took place during the exhibition.
Visitors of the exhibition and representatives of other companies showed great interest in our company software products.
Various experts were particularly interested in the possibility to use SCADA/EMS CK-2003 as a technical and software platform. Possible vertical and horizontal integration with subdivisions of FGC UES (Federal Grid Company of Unified Energy System) and SO-CDU UES for data exchange and employment of applications was also noted.