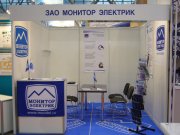 On November 26-29, 2007, Monitor Electric took part in 10th annual exhibition "Corporate networks and communication systems".
Guests of our showcase were told about new release of СК-2007— SCADA\EMS. IT experts, representatives of state and commercial companies were greatly interested in potential use of the product as program-technical platform that provides implementation of various tasks involving human-machine interface.
We are thankful to all participants and guests of the exhibition for keen interest in our products, for their questions and ideas. We hope for continued strong partnership next years.