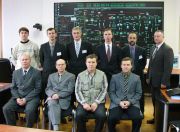 Our company has conducted week session on transfer to customers Operator Training Simulators "Phoenix" adjusted to their power supply systems, in the city of Pyatigorsk.
Among customers were: Altai RDO, Volgograd, Voronezh, Krasnoyarsk, Tomsk, Yaroslavl RDO and the UDO Center.
Training experts was simultaneously carried out. Theoretical lessons alternated with practical on which experts worked with circuits of the power supply systems. Training ended with test lessons for the employments of System Operator.
Acquaintance with СК-2003 has been in addition lead, training with use SCADA also was shown. The personnel of System Operator has been acquainted with technology of support and updating of a simulator through the web site of Monitor Electric company. UDO and RDO representatives were given install complete sets with licenses and the documentation. The received knowledge and skills will allow to develop training complexes in the mentioned branches of SO.