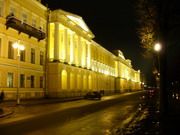 Began input in pre-production operation SCADA СK-2003 in RDO of St. Petersburg. It operates modes of the power supply systems supplying with the electric power Saint Petersburg, the Leningrad and Pskov areas.
Installation of the complex and adjustment of base functions on reception of the telemechanical information, have been executed in December of the last year.
CK-2003 will replace the automated system of dispatching management which has been working in this RDO for about 8 years. The nucleus of replaced system makes SCADA SPIDER manufactures of firm ABB; some tasks were solved with help SCADA KIO-3.