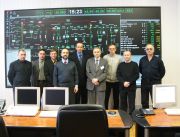 The project on introduction of Dispatcher Training Simulator "Phoenix" on 25 objects (the UDO and RDO)—branches of the System Operator—is successfully completed. The process of performance of works on adjustment of a simulator for circuits of power supply systems of branches, training of the personnel and acceptance of simulators took eight months. The project was divided into four stages.
Within the framework of the last fourth stage experts of the following branches of the System Operator have passed training: Samara, Mordovia, Omsk, Buryat, Khakass, Chita RDO. Process of training and acceptance representatives supervised the UDO Siberia and the UDO Middle Volga.
Trainees familiarized with a technique of using DTS "Phoenix" in the Personnal Training Center of the UDO North Caucasus, where they could adopt experience of successful use of a simulator together with SCADA CK-2003.
In 2005 delivery of the training complex in 18 branches of SO UPS is planned.