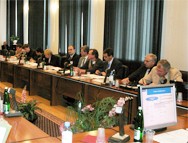 On 15-16 October, 2008 in UDO South branch of SO UPS, JSC, there took place a meeting devoted to data collection and entry for Siemens Power CC SCADA/EMS according to Project "New SCADA/EMS for SO UPS".
In that project Monitor Electric performs one of the most important and difficult part of works – data collection and entry.
Central technological group experts and SO UPS project managers, managers and experts of UDO South, KEMA consultants, Russian partners of Siemens – RTSoft and Monitor Electric took part in the meeting.
This meeting was the first one of the meetings that would take place in all UDOs and would launch DC/DE works.