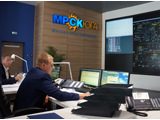 Implementation of Operational and informational software complex CK-2007 was completed at "Rostovenergo" branch of "Interregional Distribution Grid Company of the South" ("IDGC of the South"). CK-2007 replaces the previous generation software complex CK-2003, which has been working at Rostovenergo from 2008. During several months the both complexes will be working simultaneously. For this purpose planning information and manual entry data exchange is set up.
The aims of the projects are improvement of efficiency in automation and production control in the company, integration of the group of software complexes, which have different technological functions, in common information system, data security and ability to update and modernize the information system.
Software complex CK-2007 provides automatic receiving, verification, processing and storage and transmission of telemetered and other incoming information about power system states. Data is received from power facilities according to IEC 870-5-104.
Monitoring of state parameters, automatic tracking and divergence fixation are provided by means of CK-2007. Operational and informational software complex is integrated with outage control and fiscal metering automated systems. Electronic Logbook Hedgehog -2 is based on CK-2007 platform.
Power system state of Rostov region is received in real time at the 15 panel video wall of the network control center.