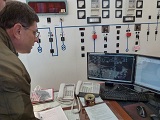 Commissioning of telemechanics and communication systems is successfully completed at LLC LUKOIL-Ecoenergo facilities – Maykopskaya and Belorechenskaya hydropower plants.
The core of implemented systems was the operational and informational software complex CK-2007, uniting transport and intelligent layers of the automated system, providing acquisition of information from lower level measuring devices ION and WAGO, according to Modbus protocol, and relaying the data to the dispatch center of OJSC "SO UPS" branch – Kubanskoye RDO. In addition, service of oscillogram data acquisition from disturbance recorders RES-3 with access to this information according to FTP protocol, works under CK-2007 control.
At the present time, the compact, cost-effective, up-to-date solution on the base of CK-2007 and multifunctional measuring converters is the optimal choice for construction of telemechanics systems and local automation of electric power enterprise system. It provides manifold opportunities and demands minimal investments into infrastructure and operating staff of the automation object.