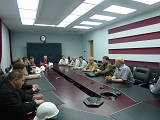 On October, 10, 2012 at Krasnodarskaya combined heat and power station a telemechanics and communication system (TMCS) was implemented. Its high level has been organized on the base of SCADA/EMS CK-2007.
During operational testing of the system a new 410 MW CCGT unit was installed at the CHPP. It allows substantial increasing of electric power output of the station. Upgrading of the information model of TMCS was needed and it was successfully completed by Monitor Electric specialists. The updated complex CK-2007 receives data not only from measuring devices ION and WAGO, but also from software-hardware complex Tornado-N with subsequent retransmission to the control center OJSC "SO UPS" branch – Kubanskoye RDO.
The next day the telemechanics and communication system of Krasnopolyanskaya HPP (LUKOIL-Ecoenergo LLC) was implemented. It was also created on the base of SCADA/EMS CK-2007. During the operational testing of TMCS a 110kV switchgear was extended and CK-2007 information model was updated. The committee accepted TMCS to commercial operation without any objection.