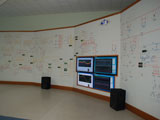 On December, 23 in 2013 at the Control Centre of Yakutskenergo a New Generation Central Receive/Transmit Station (CRTS) was commissioned, which was based on Monitor Electric software.
CRTS receives power objects data of Yakutskenergo, then the information is processed, saved to the database and transmitted to a shared display system. CRTS is collecting, processing and transmitting data through IEC 60870-5-101/104, FDST, OPC DA, SNMP, Modbus TCP protocols.
New generation solution is based on generic architecture and standard hardware facility. Telemetric data acquisition and processing is now performed in software environment and through off-the-shelf protocol converters. This new approach made the system scalable and less expensive. In CRTS, which was implemented at Yakutskenergo, physical and link layers of protocols RS-232/422 transformation into Ethernet protocol is provided with the help of two 16-port nonsynchronous server Moxa. Cisco switches enable connection of external data sources via Ethernet protocol and intercommunication between system components. Local network is organized in fail-safe topology, which provides redundancy of data transmission channels, functions and CRTS data. Equipment monitoring is based on SNMP technology. Notifications management implemented is based on E-Mail and Short Message Service.