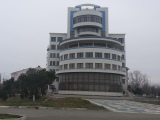 Monitor Electric has launched a project aimed at putting into service a control system at Dagestan branch of RusHydro JSC (Republic of Dagestan, city of Kaspiysk).
Data acquisition and transmission system at Rushydro Dagestan branch is based on CK-2007 SCADA/EMS. Start-up works were carried out within the period from December 21, 2014 to January 20, 2015.
CK-2007 SCADA ensures operative data collection from supervisory control systems of seven hydro power stations of Dagestan branch and its transmission to RusHydro head office (Moscow) via IEC 870-5-104 protocol. Operative data is displayed at the control center in form of single-line diagrams of power plants and the general diagram of Dagestan power network that allows supervising the state of all Dagestan branch stations at the same time.