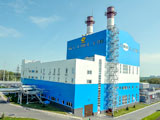 Monitor Electric has successfully deployed MODES-Centre at Quadra - Power Generation JSC (city of Tula, Russia).
MODES-Centre software provides a comprehensive suite of solutions and services for electric power market participants. It allows a distributed generating company to automate business processes related to consolidation and analysis on a level of a control center of weekly, daily and operational planning data that is exchanged between generating company units and data gateway of the System Operator of the Unified Power System.
On the initial investigation step of the project Monitor Electric engineers gathered and carefully analyzed information concerning business processes and existing hardware-software infrastructure of the client. As a result, MODES-Centre was implemented at Quadra promptly and without any disturbances for company operating activity.
MODES-Centre training session for Quadra technicians was held on the premises of Monitor Electric Moscow branch.
MODES-Centre, for the first time implemented at Quadra in 2014, now has become for the company the main way of interaction with the System Operator data gateway.