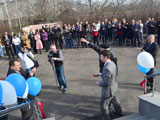 On March, 22, there was a grand opening of a new software engineering center of Monitor Electric in Pyatigorsk. The building is located in the neighborhood of the company's headquarters. The Software Engineering Center is fully dedicated to software development. Software engineers, programmers, testers, technical writers will work there.
It took year and a half to renew old building with modern communication facilities, plumbing and light systems. As a result new software center, which occupies more than 1800 square meters, is completely renewed and equipped with modern engineering systems and powerful data-center.
Congratulations to our colleagues with new home!