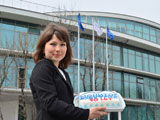 Time runs fast, we change and mature. Today our company celebrates 10 year anniversary.
Congratulations to the staff with the glorious date!
One can see that Monitor Electric achieved great results and has good mood. Looking back we can say that we have grown rapidly, but developed harmoniously.
Anniversary celebrations started with sports festival and with opening of a new software engineering center.