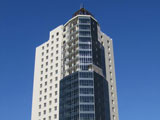 On October 11, Monitor Electric opened its production branch in Krasnodar.
The software developers passed special training under guidance of experienced specialists in the Software Engineering Center, Pyatigorsk, prior to start of the work in Krasnodar.
The software development for automated dispatch control systems together with the other divisions of the Company is going to be the main activity of Krasnodar team.