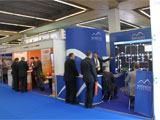 The 14th International tradeshow "Transmission and distribution of power in Russia-2011" was taking place at All-Russia Exhibition Center from November, 29 till December, 02. It was organized by the Ministry of Energy of the Russian Federation together with the Holding "Interregional Distribution Grid Company", Open JSC. About 450 companies took part in this event.
The following Monitor Electric new developments were presented at the company's stand:
Operational and informational software complex CK-2007C, Communications processor CK-Proxy, prototype of the system of CK-2007 integration with geo-informational systems (GIS), and solution on using CK-2007 as a platform for automated control of engineering systems. Tradeshow visitors were mostly interested by the new opportunities of the Electronic Logbook "Hedgehog-2" in the field of organizing hierarchical data exchange between facilities, demonstration of operator training simulator FINIST in work, and by the presentation of various CK-2007C subsystems, connected with the process of editing CIM model, remote operation and display of real-time information at geospatial layers.
Our company appreciates organizer's assistance and is thankful to all the participants for the interest they showed in our company products.