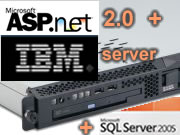 While new SCADA/EMS CK-2003 rel. 5.0 is about to be published, we' ve already took care of making online customer service better.
- New more powerful server IBM eServer® xSeries® 306m with Microsoft Windows Server 2003 R2 Standard Edition was placed into operation instead of the old one that has been running for more than two years.
- Software was updated as well. New web-site core is now working under ASP.NET 2.0, using Microsoft SQL Server 2005 as the database.
Alongside the implementation of the new web technologies we optimized the display of www.monitel.ru in popular alternative browsers like Opera and Firefox; page loading was also improved.
The efforts taken will essentially add to improved server load-carrying ability as well as the time will be reduced necessary for developing the services that we deliver via the corporate web-site to our staff, partners and clients.