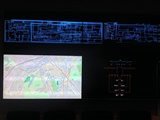 In December 2015, Monitor Electric together with Polymedia company have tested compatibility of CK-11 with the data visualization management software Polymedia.
CK-11 graphic platform and information display system are designed flexible and do not require use of any specialized hardware or software to work with video walls. However, taking into account the feedback of our customers, we decided, together with our Polymedia partners, to make sure that CK-11 can function in integration with Polymedia data visualization management solution without any limitations.
We used a videowall by Mitsubishi (Japan), 6 cubes, in configuration 3x2.
During the test we have checked the possibility to display power system single-line diagrams, text (tabular) data, trends (graphs), the animation on the wall diagram, geographical map data.
The following functions were examined:
free placement of multiple diagrams in various areas of a video wall;
setup and display of different sets of mnemonic diagrams, tables, graphs on a video wall;
quick navigation between created sets;
diagram zooming and navigation between diagram layers.
All stages of compatibility test have passed smoothly. The test has confirmed full compatibility of CK-11 and the data visualization management software Polymedia.