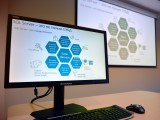 A working meeting with the representatives of Microsoft Corporation took place at the premises of Monitor Electric in Pyatigorsk.
Among the key issues on the agenda were the innovations in the field of high-performance, fault tolerance and data security, and big data analytics tools.
The format of the meeting allowed the parties to exchange useful information and discuss the main directions of further cooperation.