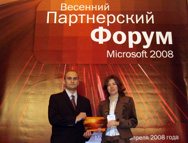 Monitor Electric Company was awarded the title "Microsoft Best Partner 2007" in the category "Strategic partnership" by software company Microsoft on April 25 at Microsoft Partner Program Forum in Moscow.
Mr. Birger Sten, Microsoft Russia Director General, presented the representatives Andrey Konev and Svetlana Zhuravleva with "Memorable certificate", which marked the success of collaboration of our company engineers and Microsoft Consulting Services experts in developing of a new generation high-performance real-time data storage that uses Microsoft SQL Server 2005 database as a main tool.
The new storage component is the core of a new SCADA/EMS system CK-2007 which currently undergoes implementation stage at power system resources since November 2007.