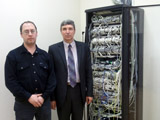 Specialists of Monitor Electric and EnergopromAvtomatizatsiya successfully completed compatibility tests of software-hardware complexes produced by the companies for data and supervisory control commands exchange.
The test was performed remotely according to the agreed program and methodology. For this purpose the specialists had to set up stands and to organize Internet connection via protected channel.
Obtained test results confirmed full compatibility of the software-hardware complexes in data receive (analog and status measurements) from SCADA-NPT Expert to CK-2007 and in switches supervisory control commands from CK-2007 to SCADA-NPT Expert ,according to IEC 60870-5-104.