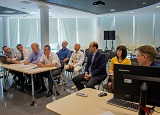 In December 2016 the Department for Interaction with Equipment Manufacturers approved the positive conclusion of Rosseti PJSC Attestation Commission confirming that Monitor Electric CK-11 software complex is recommended for use at Rosseti group control centers.
For consideration of Rosseti Attestation Commission was submitted Monitor Electric CK-11 platform including a set of applications for design of automated systems for real-time technological and situational power grid management (altogether 41 components).
In the course of Attestation Commission work, it was acknowledged that CK-11 meets Rosseti PJSC technical requirements and complies with industry standards and documents regulating the requirements to the means of operational, technological and situational management.
By the decision of Rosseti Attestation Commission, CK-11 has been approved for use at Rosseti distribution grids facilities in order to perform the following functions:
Common Information Model (CIM) support
Technological data acquisition
Technological data processing
Event processing
Backup and reporting
Technological data display
Network state estimation, network analysis, real-time EMS/DMS
Switch control
Electronic logbook