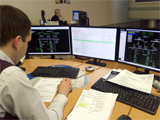 Field tests of automated pilot control of power grid equipment with new SCADA CK-11 were held successfully involving Monitor Electric specialists at regional dispatch offices of SO UPS JSC UDO North-West, FGC UES PJSC, MPN North-West in July 4, 5.
Power breakers 330 kV, bus bars 330 kV, ATs 330/110 kV and 330/220 kV at Vasileostrovskaya and Ilyich Plant substations were switched to standby mode and then brought again into operation from UDO North-West dispatching control office. Also the cable line (CL) 330 kV Ilyich Plant - Vasileostrovskaya was removed out of service and put again to operation. All the manipulations with releasing powerlines for maintenance and again for use, and also on pulling out for standby and of bringing substations into operation again were conducted through automated switch programs (ASP).
In the course of the trial run far less time was required for all the manipulations compared to customary activity execution with the commands of dispatch office personnel.
For breakers it took about 20 sec, for ATs – 1 min 10 sec, for bus bars – 330 kV – 30sec, for CL – 330 kV – 2 min 15 sec as transit time for switching to standby mode and shutting down for maintenance.
Supervisory control switching through SCADA CK-11 let boost switch security and enhance reliability of energy grid due to autotest block system on the basis of the network topological state analysis, equipment monitoring and online-mode acknowledgement of the completion of the commands given.
Source: SO UPS JSC