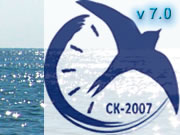 New generation of SCADA/EMS CK was designed to significantly improve accuracy and rate of data processing. The whole architecture was redesigned so that now all data would be stored directly into industrial DBMS.
Version 7.0 supports two time stamps accurate within milliseconds.
New release is installed at Microsoft Windows Server 2003 x64 and Microsoft SQL Server 2005 x64 platform and uses all the advantages of state-of-the-art hardware.
New software is characterized among other by advanced compression algorithms, automatic updates system, and employing of network equipment SNMP monitoring, which significantly lowers operational expenses and improves stability of the new hardware-software complex.