Electronic Logbook Hedgehog-2 is designed for operation record entry, storage and analysis by the dispatchers and managers of electric utilities and other organizations carrying out electric power dispatching functions.
Our electronic logbook offers convenient record keeping for a wide variety of operational events such as power system state change, equipment outage, relay or special protection scheme operation, communication or computing equipment failure, dispatcher directives, neighboring system personnel inquiries, etc.
HIGHLIGHTS
Reliable record keeping
Safe data storage, backup and replication
Concurrent multi-user access, per user and per-role access authorization and privileges
Classification and categorization of the variety of operational information that is handled by duty personnel and other logbook users
Simplified record entry; ability to attach files in various formats to each record
Event subscription and instant notification of responsible personnel; cellphone text-message, instant message (IM) or email based notification
Flexible integration with the enterprise resource planning and other company automation software
The ease of access to record archive allows the dispatcher to locate cases similar to the ones they encounter and then use the resolution of these cases in their own decision; this turns the logbook archive into a readily accessible storage of past operational experience
Significant record keeping time savings and other overhead reduction for shift duty personnel
SECURITY
Our logbook is protected by a sophisticated security system. The system is based on modern requirements and corporate security standards. The logbook protects against unauthorized log access, record deletion, alteration and forgery. The logbook creates a unique digital signature for every record as well as for the whole log. This way, unauthorized record manipulation cannot pass undetected. The security system maintains a separate security log where it enters all security related events.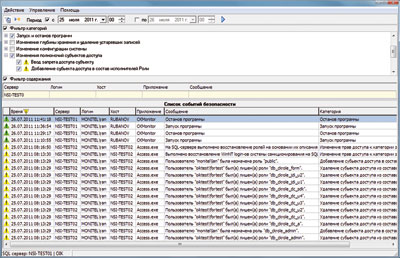 Our logbook has triple-level data access authorization system. For information security, the logbook may maintain multiple backup as well as on- and off-site replication copies of the records and other key data. The logbook automatically synchronizes the data between replicas.
MAIN FEATURES
Let us describe some of the major features of our electronic logbook.
Authorized personnel can access the records for current time interval as well as for the any other interval in the past. Several users may read and modify the records concurrently.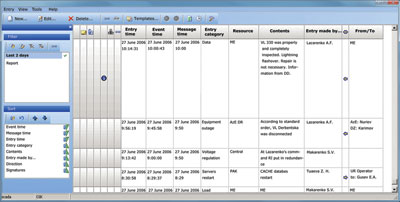 There is an expandable list of record templates and keywords that allows quick entry of typical records.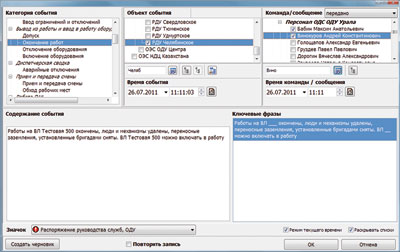 Entries can be linked logically (e.g. related to the same event) or technologically (e.g. related to the same piece of equipment). Such linked entries can form chains of arbitrary length.
The records can be classified and displayed according to a variety of criteria: event type, event site, responsible duty shift, etc.
The logbook allows individual dispatchers to be assigned different roles depending on their duties. The logbook may display and maintain shift schedule and automate the dispatcher shift change process.
Additional supporting documents, such as specific regulation entry, a photograph or a phone communication record can be attached to the logbook entry.
A record can be saved as a draft for later editing.
Multiple levels of comments can be added to each individual record.
Record clearances and other action notes can be added to the records. Logbook may notify personnel of such events.
Data can be exported using popular office automation software formats.
The logbook has sophisticated record search and sorting capabilities.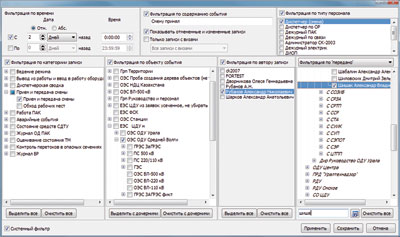 The logbook allows printing the records as they are entered with proper sequential page numbering across the whole log.
The records can be sent through instant messaging or by email. The notifications and messages can be automatically sent through cellphone text messages.
Hedgehog-2 seamlessly integrates with CK-2007, MODES-Centre and other programs by Monitor Electric as well as third-party developers.
The record integrity and security is built into the logbook. After the record is created, its editing is prohibited. If it is necessary to change the record, a new record is created and linked to the old record. The old record, appropriately marked, remains in the archive. Record deletion and cancelation is organized similarly.
The logbook has a well-documented API for external system record entry. Thus, other systems may be configured to automatically enter records into the logbook.
STANDARDS COMPLIANCE
The logbook record maintenance rules for Hedgehog-2 are codified by TU 5015-02MBDT-2005 standard. Monitor Electric developed this standard on the basis of modern information security and industry regulations.
In October 2007, electronic logbook Hedgehog-2 is certified by "Rostehnadzor" (Russia's State Energy Regulatory Commission) as compliant with the current industry rules and regulations. The agency recommends the logbook for installation in transmission service operators, reliability coordinators, generation and distribution utilities as well as other organizations that maintain and service electric power equipment.